Customers demand accurate nutrition information for all the products they consume, and MenuSano makes it easy to create Nutritional Fact Labels for your Cannabis based edible products.
With MenuSano, you can skip the high fees and long waiting times associated with lab analysis, and instead create unlimited labels on demand, cutting product development times and allowing you to adjust your recipes as needed.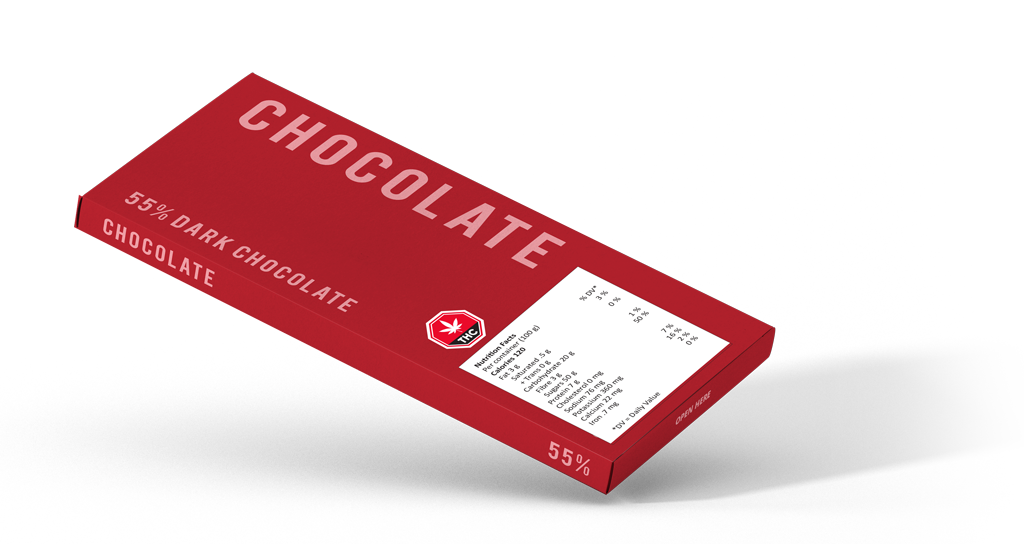 Cannabis Edible Labelling in Canada & the US
There are strict rules on labelling cannabis edible products. Labels must have specific titling, formats, font sizing, border sizing, etc.
MenuSano does all that hard work for you. Just enter your ingredients as if you were creating any other dish or recipe, and we will calculate the nutrition information, and generate a label that is accurate and formatted specifically for your cannabis products.
In addition, our labels will also declare the quantity of CBD and THC in your products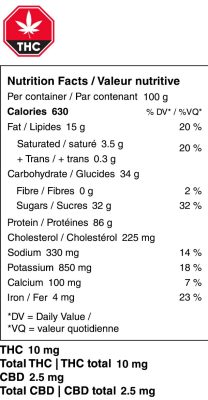 United States Cannabis Edible Labelling
For our United States customers, MenuSano does the same heavy lifting in calculating all the nutritional information of your recipes, so you can keep your customers informed and safe.
In the US, each state has written their own laws as to the sale and use of Cannabis and Edibles. Currently, recreational sale of Cannabis is allowed in: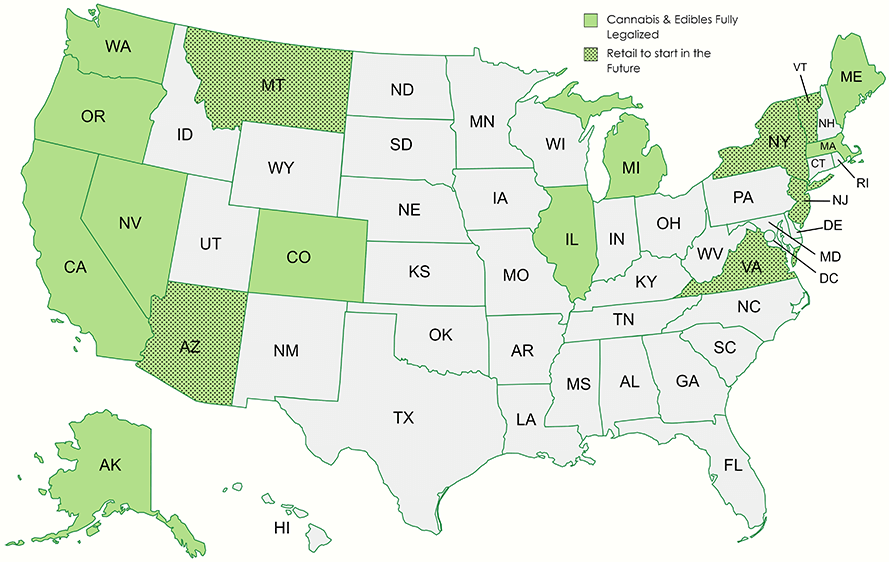 Alaska
California
Colorado
Illinois
Washington
Oregon
Maine
Massachusetts
Nevada
Arizona
Michigan
Montana – starting in 2022
Vermont – starting in 2022
New York – starting in 2022
New Jersey – starting in 2022
Virginia – starting in 2024
Prepare now for Future Retail Opportunities
As states allow cannabis retail stores to begin to operate, there will be large and immediate demand for cannabis products.
As states roll out retail opportunities, you can use MenuSano, to begin working on your recipes now, adding up ingredient costs and checking for suppliers, so you can start your new retail business off on the right foot, offering cannabis products starting from day 1.
More Great MenuSano Features

Ingredient Databases
MenuSano has vast databases of ingredients, and if you can't find an ingredient in our database, you can add your own custom ingredients.

Recipe Costing
With MenuSano, you can keep track of your recipe costing, so you can make sure that your products is always on-budget.

Allergen Labelling
Add Allergen information to your nutrition labels, to keep your customers safe and informed when consuming your edible products

Secure Cloud Storage
Our secure cloud storage can keep your recipes safe and private from everyone, including us.ulvinar dapibus leo.
What Our Customers Are Saying...
"I'm very fascinated with the possibilities and opportunities that MenuSano provides. If I'm making something cholesterol-free, I can show the nutritional analysis with MenuSano. If I want to balance calories, I can swap out regular milk with coconut milk, and then add oatmeal. It's great to be able to see what I'm creating and its benefits to the body."
"Sending our recipes to a nutritionist, or out to a lab and having to wait three weeks for results is timely. I am constantly changing my recipes in general to improve them. Instead of using timely and costly methods to provide consumers with our product's information, we use MenuSano, a web-based nutritional calculator. It really has made this journey easier for me".
"MenuSano allows us to calculate our recipes with accuracy and instantly, it checks potential variations in the recipe. For instance, if we notice one item in development might be slightly higher in calories, salt, or other factors than we would like, we can make the necessary changes. This has allowed us to provide much more accurate information in our food items".
"The one thing we were surprised to find out is how much sodium our recipes contain. We thought we used minimal salt but Menusano helped us discover that some of our recipes contained a surprising amount, which made us change some of our recipes"
"The right product for the right application! Our business was at a standstill until we could sort out our nutrition labeling requirements. MenuSano's software was so easy to use, we were into production of our nutritional labels in minutes, no small feat! When we were obtaining our food safety certifications for Township 27, nutrition labeling became necessary. We were unsure of where to start or what to do. Many of the websites we researched claimed to provide all the answers and quite frankly didn't. Then we found MenuSano! MenuSano delivered on all fronts; nutrition labeling, ingredient sourcing, and all kinds of applications we hadn't even thought of. Sooo intuitive and easy to use, not sure where we would be without them!"
"Simple Interface, Good Feature Set, Excellent Price. Very easy to use, and comes with a short tutorial. Like the ability to be able to access Canadian Nutrient File data and to incorporate actual manufacturer nutritional information into recipe analysis. Nutrition Facts panel generation from a recipe helps to make the outcome very professional looking."
The best software by far for food companies. This software saved me. I had a deadline and the person I usually get to do my nutritional was not available. Thanks to this software, we will be doing it all ourselves from now on.
Content You Might be Interested In
Cannabis writer, chef, and founder of Feels Like More, Jennifer Blakney, discusses cannabis edibles within the foodservice industry, what hurdles she faced developing the Feels Like More Co and what the recent legalization of cannabis edibles means for her and her business.