A Comprehensive, Compliant Nutritional Analysis & Recipe Costing Software Designed to Increase Business and Customer Satisfaction. MenuSano's versatile service brings in-house nutrition analysis to bakeries, large and small. By removing the inconvenience of hiring a nutritionist or sending food items away to a lab for testing, bakeries using MenuSano can focus on creating appetizing products with ingredients their customers will love and growing their business in an affordable, efficient way.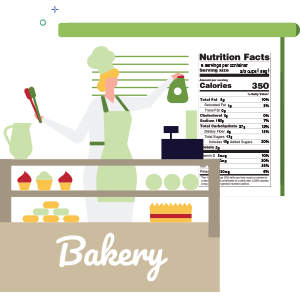 Bakeries using MenuSano have found that adding nutrition labels has had a positive impact on the success of their business and their overall customer retention. Popular items remain popular, while other items reach that same status because they now have an informative, comprehensive nutrition fact label attached.
The value of offering nutritional information, even at an indulgent spot like a bakery, is incredibly valuable. Though it may incite change in customer behaviour, there is an immense, long-term benefit in the sense that it enriches customer decision-making which empowers them, thus increasing overall customer satisfaction.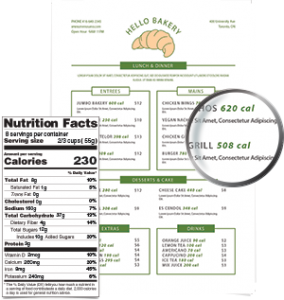 MenuSano offers its services to bakeries in the following ways

Promotes growth in the retail and wholesale market

Provides a simple process to gain control of the nutritional content of recipes

Offers healthier items without compromising flavour

Easily offers food items to customers with dietary concerns such as sodium, cholesterol, fibre, allergies, etc.

Handles seasonal menus without the costs incurred of sending food items to a lab

Increases customer satisfaction through an enriched decision-making experience
Serve to a Diverse Customer Base with MenuSano
Give the market what it demands – options!
Enrich customer decision-making by offering healthy choices in addition to those to-die-for Nutella crepes and homemade donuts.
MenuSano enables you to experiment with recipes by making small changes to make them healthier or customized for certain diets (gluten-free, low sodium, high fiber, etc.)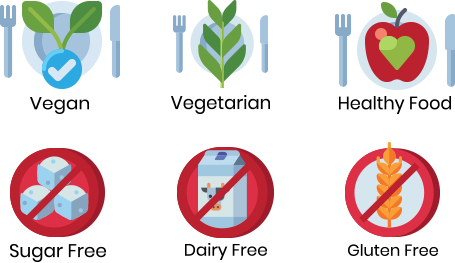 US, CAD, and UK Compliant Nutrition Data
You'll find that MenuSano is not just for US bakeries, but also CAD and UK Compliant. This means that our product was designed with these regulations in mind, and we take them very seriously.
Does your bakery need to comply with menu labelling legislation?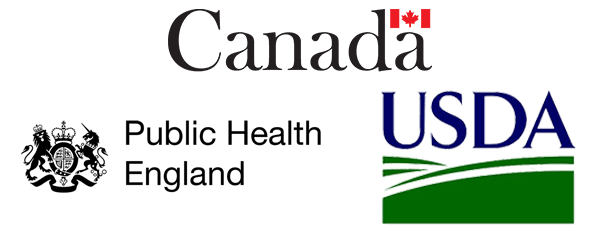 MenuSano helps bakeries to comply with menu labelling legislation by:

It can cost up to $3,500 for just five food items if sent to a lab for nutritional analysis. That price drops down to a flat $320 with MenuSano. See our pricing page for more information

Sending food items out to a lab can take weeks before the nutrition analysis is complete. MenuSano allows you to do your nutrition analysis in-house on your computer

MenuSano has an extensive ingredient database with the additional feature to add custom ingredients. Search an ingredient, add the quantity, and MenuSano will calculate the nutrition for you.
With MenuSano's Recipe Costing module, effectively manage costs to ensure a maximized profit margin for each recipe. Eliminate errors created from tracking recipe costs on messy excel sheets or with pen and paper.
Recipe Costing Core Features: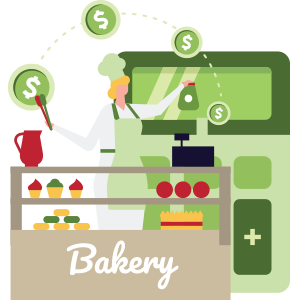 Save time and increase profitability with MenuSano's recipe costing add-on.
Quick & Easy Nutrition Analysis for Recipes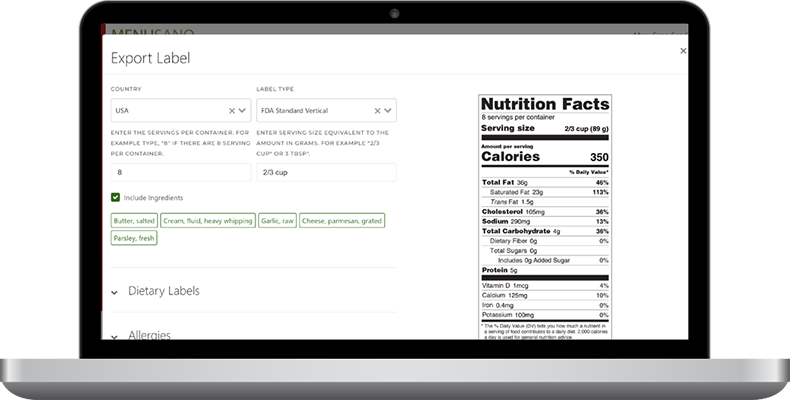 The value of our product is that it is extremely user-friendly and designed to be efficient and meet all of your needs in a timely manner.
We understand that for you and your restaurant staff to keep up with the fast-paced nature of this industry, you need products that work quickly.
The process is simple: input the nutritional information into the program and print out the nutrition fact label or incorporate it into your standard menu.
Being able to see these results more quickly and efficiently not only gives you the knowledge of what you are serving your customers but empowers you to make changes that could result in healthier dishes.
Straightforward, User-Friendly Software
The award-winning MenuSano software is designed by Konverge Digital Solutions, a Canadian-born firm with over twenty-five years of experience in custom software solutions. Therefore, the software is designed with the user in mind as well as the foodservice provider's objectives.
You only need your login details, a device, and the internet to get to work so it's super easy to work away from your bakery too. In addition, all of your team members, from your chef to your accountant, can access the account easily.
On average, it takes just minutes to input a recipe and then it's just a case of storing the data, exporting and printing the nutrition fact label. The software can highlight dietary requirements, such as vegan or gluten-free. It also can point out foods that are low in fat, salt or sugar that you may wish to highlight as well.
Prairie Girl Bakery
Prairie Girl Bakery uses MenuSano to be transparent about what's in their baked goods.
BonBon Collections
BonBon Collections turns to MenuSano to better serve their food-restricted customers.
Windmill Bakery
MenuSano provides Windmill Bakery customers new insight into the foods they are buying.
What Our Customers Are Saying...
"I'm very fascinated with the possibilities and opportunities that MenuSano provides. If I'm making something cholesterol-free, I can show the nutritional analysis with MenuSano. If I want to balance calories, I can swap out regular milk with coconut milk, and then add oatmeal. It's great to be able to see what I'm creating and its benefits to the body."
"Sending our recipes to a nutritionist, or out to a lab and having to wait three weeks for results is timely. I am constantly changing my recipes in general to improve them. Instead of using timely and costly methods to provide consumers with our product's information, we use MenuSano, a web-based nutritional calculator. It really has made this journey easier for me".
"MenuSano allows us to calculate our recipes with accuracy and instantly, it checks potential variations in the recipe. For instance, if we notice one item in development might be slightly higher in calories, salt, or other factors than we would like, we can make the necessary changes. This has allowed us to provide much more accurate information in our food items".
"The one thing we were surprised to find out is how much sodium our recipes contain. We thought we used minimal salt but Menusano helped us discover that some of our recipes contained a surprising amount, which made us change some of our recipes"
"The right product for the right application! Our business was at a standstill until we could sort out our nutrition labeling requirements. MenuSano's software was so easy to use, we were into production of our nutritional labels in minutes, no small feat! When we were obtaining our food safety certifications for Township 27, nutrition labeling became necessary. We were unsure of where to start or what to do. Many of the websites we researched claimed to provide all the answers and quite frankly didn't. Then we found MenuSano! MenuSano delivered on all fronts; nutrition labeling, ingredient sourcing, and all kinds of applications we hadn't even thought of. Sooo intuitive and easy to use, not sure where we would be without them!"
"Simple Interface, Good Feature Set, Excellent Price. Very easy to use, and comes with a short tutorial. Like the ability to be able to access Canadian Nutrient File data and to incorporate actual manufacturer nutritional information into recipe analysis. Nutrition Facts panel generation from a recipe helps to make the outcome very professional looking."
The best software by far for food companies. This software saved me. I had a deadline and the person I usually get to do my nutritional was not available. Thanks to this software, we will be doing it all ourselves from now on.