MenuSano for Retirement Homes: Nutritional Wellness for Golden Years
When it comes to the well-being of seniors, nutrition plays an integral role. MenuSano understands the unique nutritional requirements of aging and aims to make meal planning in retirement homes as effective, healthy, and transparent as possible.
Discover how MenuSano, as the leading nutrition software for retirement homes, can enhance the nutritional well-being of your residents and set your retirement home apart.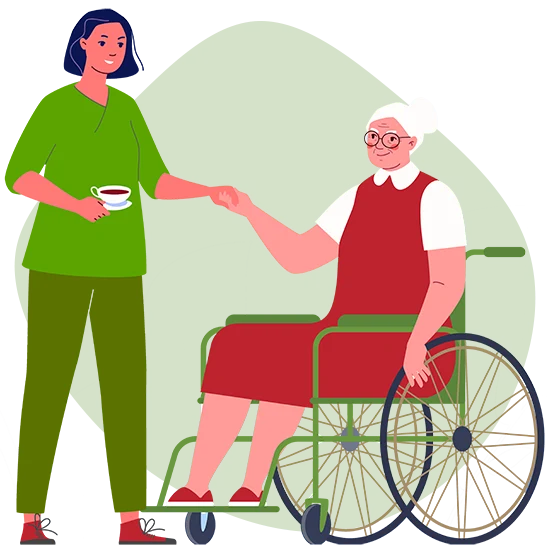 Senior Care Nutrition Analysis
As senior care providers, you recognize the importance of precise nutrition tailored to the unique needs of your residents. MenuSano goes beyond standard nutrition analysis—it provides specialized senior care nutrition analysis, ensuring that your residents receive meals perfectly suited to their health requirements.
Why MenuSano is Essential for Retirement Homes

Specialized Nutritional Needs
Create customized meal plans that cater to medical conditions like diabetes, hypertension, and heart issues

Easy Nutritional Analysis
Generate accurate and easy-to-understand nutrition labels, even for complex meals

Protect the well-being of residents by clearly marking potential allergens and intolerances
Enhancing Quality of Life Through Nutrition
Good nutrition is critical for the elderly, affecting not just physical health but also mental well-being. MenuSano makes it easy to incorporate balanced, nutritious meals into daily living, contributing to a higher quality of life for residents.
MenuSano in Retirement Home Kitchens

Nutritionally Balanced Menus
Rotate menus with ease, making sure meals are both varied and balanced

Resident-Favorite Recipes
Maintain beloved recipes while enhancing their nutritional content

Adjust meal plans for community events, holidays, or themed dinners while keeping an eye on nutritional intake
Peace of Mind for Families
Families can rest easy knowing that their loved ones are receiving delicious and nutritionally sound meals, thanks to MenuSano's transparent labelling and rigorous nutritional analysis.
MenuSano & Diabetes Management in Seniors
The Significance of Dietary Management in Diabetes Care
For seniors living with diabetes, dietary management is not just a recommendation; it's a requirement. The relationship between food, insulin, and blood sugar levels is a delicate balance that can heavily influence the overall health and well-being of diabetic individuals. Mistakes in this area can lead to dangerous swings in blood sugar levels, causing short-term health issues and exacerbating long-term problems.
Customized Meal Plans for Diabetic Residents

MenuSano allows for creating customized diabetic-friendly menus, providing carbohydrate counts and glycemic index information to aid in mealtime insulin adjustment

Our software considers sugar levels and essential nutrients like fibre, protein, and healthy fats that are crucial for diabetic management for elderly

Regular Monitoring & Updates
Consistency is critical for diabetes care. MenuSano's features facilitate easy monitoring and quick updates to meal plans as per a resident's medical reports or dietary requirements
Transparency & Communication

MenuSano's clear nutrition labels enable transparent discussions about dietary plans and adjustments among healthcare providers, residents, and their families

Set up notifications for meal ingredients that could cause blood sugar spikes, allowing kitchen staff to make last-minute adjustments

Ensure your culinary team understands the implications of diabetes with MenuSano's educational resources, enabling them to craft tasty and safe meals for diabetic residents

Involve residents in their care by educating them on reading and interpreting MenuSano's nutrition labels, empowering them to make informed decisions even during snack times or special occasions
What Our Customers Are Saying...
"I'm very fascinated with the possibilities and opportunities that MenuSano provides. If I'm making something cholesterol-free, I can show the nutritional analysis with MenuSano. If I want to balance calories, I can swap out regular milk with coconut milk, and then add oatmeal. It's great to be able to see what I'm creating and its benefits to the body."
"Sending our recipes to a nutritionist, or out to a lab and having to wait three weeks for results is timely. I am constantly changing my recipes in general to improve them. Instead of using timely and costly methods to provide consumers with our product's information, we use MenuSano, a web-based nutritional calculator. It really has made this journey easier for me".
"MenuSano allows us to calculate our recipes with accuracy and instantly, it checks potential variations in the recipe. For instance, if we notice one item in development might be slightly higher in calories, salt, or other factors than we would like, we can make the necessary changes. This has allowed us to provide much more accurate information in our food items".