Choosing the right partner in an industry as competitive and regulated as food manufacturing can make all the difference.

At MenuSano, we offer specialized solutions tailored to meet the unique needs of food manufacturers, covering everything from nutritional analysis to compliance and labelling.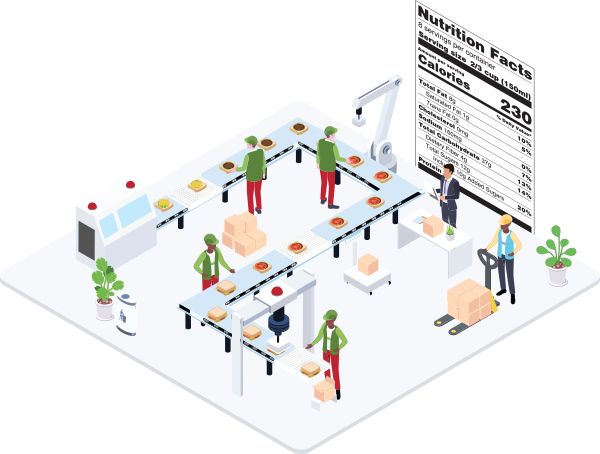 Why Choose MenuSano for Food Manufacturing?

Leverage our real-time nutritional analysis and analytics features to make informed, data-driven decisions.

Overcome regulatory hurdles effortlessly.
Our platform enables you to generate compliant nutrition fact labels and documents that comply with FDA, CFIA, and other international standards.

Use our recipe costing software and nutrition calculators to take your product from prototype to final product with confidence.
Key Features with MenuSano

Comprehensive Menu Labelling
Generate compliant nutrition fact labels for Canada, the USA, and the UK quickly and easily.

Recipe Management
Keep track of all your recipes and ingredients. Scale recipes, adjust yields, and select cooking methods effortlessly.

Real-time Updates
View your label in real time as you make adjustments, ensuring accuracy.

Multilingual Support
Translation is available for ingredients in labels.

Diverse Nutrient Databases
Choose from various databases, including CFIA(Canadian Food Inspection Agency), USDA SR Legacy, USDA Foundation Foods, USDA Branded Foods, UK Nutrient, and Sugar Alcohols Database.

Flexibility & Export Options
Set serving sizes, include ingredients in the label, and get ready-for-product exporting options.

Specialized Food Labelling
Choose from over 50 compliant labels for your products, including specialized labels for cannabis and keto products.
And More!
We've got you covered, from secure cloud storage to 4-4-9 calculation methods.
Nutrition Analysis Software Trusted Across Industries
Since our inception, MenuSano has earned trust across various sectors, including restaurants, bakeries, hospitals, government agencies, manufacturing companies, and public health departments.
Customer-First Design Philosophy
By utilizing MenuSano, you can design your products with a customer-first mindset. Adjust ingredients and their quantities to reach a desired nutritional profile that impresses customers and enhances profitability.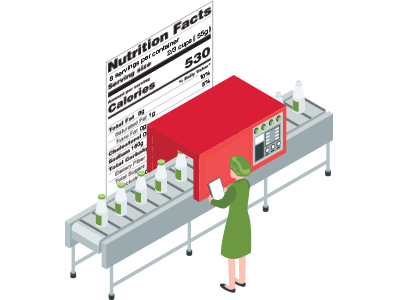 What Our Customers Are Saying...
"I'm very fascinated with the possibilities and opportunities that MenuSano provides. If I'm making something cholesterol-free, I can show the nutritional analysis with MenuSano. If I want to balance calories, I can swap out regular milk with coconut milk, and then add oatmeal. It's great to be able to see what I'm creating and its benefits to the body."
"Sending our recipes to a nutritionist, or out to a lab and having to wait three weeks for results is timely. I am constantly changing my recipes in general to improve them. Instead of using timely and costly methods to provide consumers with our product's information, we use MenuSano, a web-based nutritional calculator. It really has made this journey easier for me".
"MenuSano allows us to calculate our recipes with accuracy and instantly, it checks potential variations in the recipe. For instance, if we notice one item in development might be slightly higher in calories, salt, or other factors than we would like, we can make the necessary changes. This has allowed us to provide much more accurate information in our food items".
"The one thing we were surprised to find out is how much sodium our recipes contain. We thought we used minimal salt but Menusano helped us discover that some of our recipes contained a surprising amount, which made us change some of our recipes"
"The right product for the right application! Our business was at a standstill until we could sort out our nutrition labeling requirements. MenuSano's software was so easy to use, we were into production of our nutritional labels in minutes, no small feat! When we were obtaining our food safety certifications for Township 27, nutrition labeling became necessary. We were unsure of where to start or what to do. Many of the websites we researched claimed to provide all the answers and quite frankly didn't. Then we found MenuSano! MenuSano delivered on all fronts; nutrition labeling, ingredient sourcing, and all kinds of applications we hadn't even thought of. Sooo intuitive and easy to use, not sure where we would be without them!"
"Simple Interface, Good Feature Set, Excellent Price. Very easy to use, and comes with a short tutorial. Like the ability to be able to access Canadian Nutrient File data and to incorporate actual manufacturer nutritional information into recipe analysis. Nutrition Facts panel generation from a recipe helps to make the outcome very professional looking."
The best software by far for food companies. This software saved me. I had a deadline and the person I usually get to do my nutritional was not available. Thanks to this software, we will be doing it all ourselves from now on.