MenuSano is an award-winning, affordable online nutrition value calculator tool allowing food service providers and food manufacturers to produce and download printable nutrition facts labels at 300dpi, in jpg or PDF format. The easy-to-use tool takes the worry, cost, and confusion out of nutrition facts labeling so you can concentrate on what you do best; creating great food products.
Save thousands in label fees with an in-house nutrition label creation system.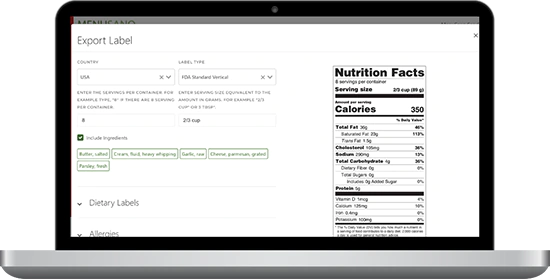 Nutrition Facts Calculation Method
MenuSano uses a theoretical nutritional analysis method to calculate the nutritional value of your dishes and products. This is just as accurate when compared to the original laboratory analysis approach. It also has the added benefits of being quicker and more affordable. Theoretical analysis can be more accurate than traditional laboratory nutritional value analysis, as it uses a mean nutritional value for the content of food, which varies naturally from season to season.
With the MenuSano software at your fingertips, your chefs can adapt and experiment with dishes as many times as they like to come up with the perfect marriage of a great-tasting and nutritionally appealing product your customers will love.
Change and experiment with the sodium, fat, and sugar content of popular and new dishes to cater to all types of consumers. With MenuSano, you can ensure that your menu has products suitable for Vegans and Vegetarians, as well as people with diabetes, gluten, and other food allergies. Health-conscious consumers and those that need to follow low fat or sodium diets can also be catered to.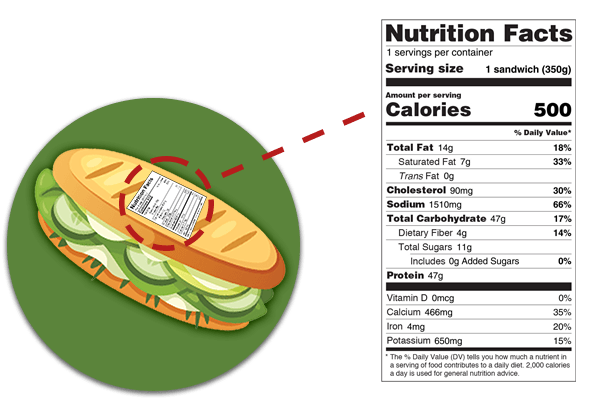 Nutrition Facts Label Making Process
Creating nutrition facts labels for your food products couldn't be easier with Menusano.
Simply input the quantities of the ingredients that comprise each product and MenuSano will display the nutritional information that can be instantly downloadable as an image or a PDF file, which can be sent to a graphic designer or uploaded into a printing software.
Unilingual and bilingual Canadian, FDA, and UK nutrition labels are available, and in many dimensions, with MenuSano's label creation tool. Some features allow you to highlight and detail Allergen and Dietary statements (such as Organic, Vegan, Keto, etc.), as well as detailing ingredients. Now, you can add sugar alcohol to satisfy your template for your Keto nutrition labels.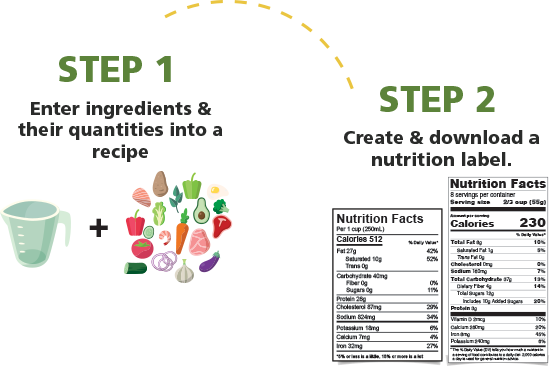 MenuSano is an easy-to-use nutrition facts calculator for Food Manufacturers, Food Services, Catering, Hospitality, Food Startups, Healthcare, and more. Simply add ingredients from MenuSano's extensive database to recipes and export a nutrition fact label. 
The software has been tested by restaurants, hospitals, as well as public health departments.
Food Services can use MenuSano nutrition fact labels to add to their retail products and marketing materials, such as a website, flyer or menu. Food Manufacturers can use MenuSano to create compliant labels for their products.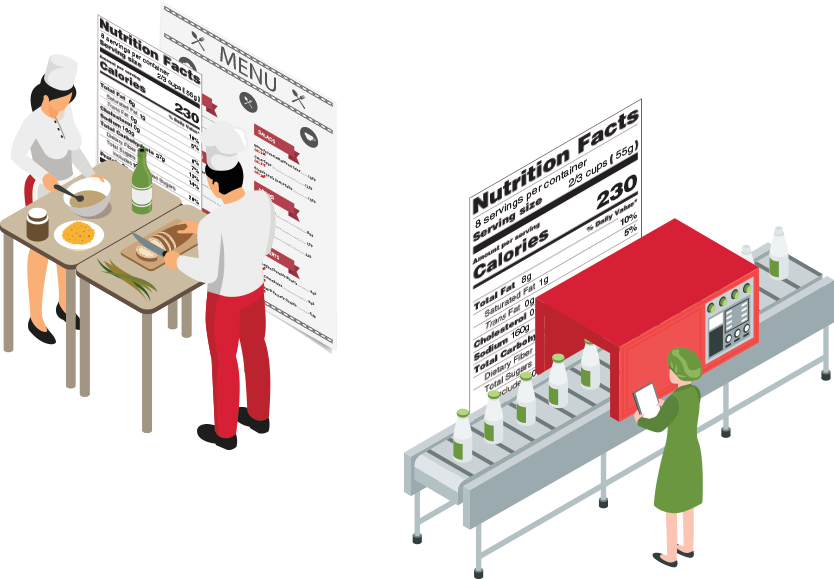 Nutrition Fact Labelling and the Law
The government's desire to keep populations healthy means that many food businesses must follow certain regulations. MenuSano's Label Creator Tool adheres to the new nutrition label format introduced by Health Canada, U.S Food and Drug Administration, and UK Government.
If you're a producer of packaged food or if you run a restaurant with more than one location, you must by law supply nutritional facts information. However, even if you are just a single site restaurant, there is compounding evidence that providing nutrition value information will benefit you in several ways. So don't let your larger competitors steal away your customers!

CFIA Nutrition Fact Labels
MenuSano Food Labeling Software uses the CFIA guidelines for Canadian nutrition fact labels and DV calculations.

FDA Nutrition Fact Labels
Use MenuSano Food Labeling Software to create FDA compliant nutrition fact labels for products sold in the US.

UK Nutrition Fact Labels
Stay compliant with UK regulations and add all mandatory information on nutrition fact labels with MenuSano.
Nutrition Value Information Database
With the introduction of the menu labelling legislation, businesses are gearing up to produce compliant nutrition facts labels for their customers in line with industry regulations.
MenuSano uses an extensive database of ingredients commonly found in the Canadian, USA, and UK diet collated by Health Canada, the USDA, and Public Health England.
Nutritional value information is displayed in accordance with government criteria and clearly shows macronutrients and several important micronutrients.
The information is recorded either in grams or milligrams, whichever is most appropriate. The data is also expressed as a percentage of the recommended daily value (DV), for consumers to easily understand.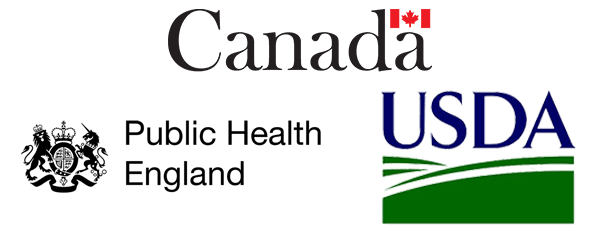 How to Create a Nutrition Fact Label
A nutrition facts label is designed to reflect the most up-to-date recommendations from the Food and Drug Administration regarding the nutrition facts of certain foods. There are different options when it comes to creating nutrition facts labels, such as using laboratory analysis, consulting with a dietitian, and using nutrition analysis software.