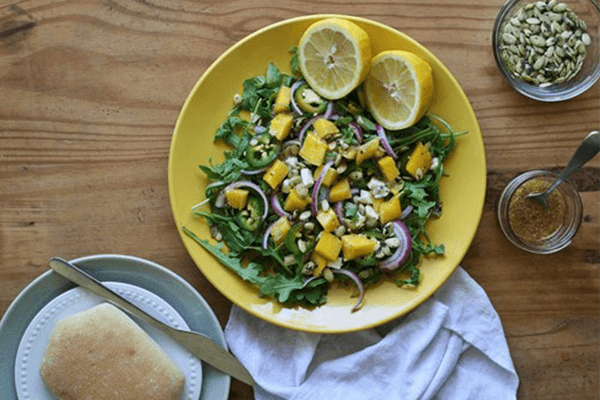 According to the Heart and Stroke Foundation, processed food purchases have doubled over the last 70 years to now make up 60 percent of the average family's food purchases. Why? Because nutrient-poor processed foods and sugary drinks have become far too easily accessible.
Promoting nutrition and healthy eating in a hospital setting
Nowhere is healthy eating more critical than in a hospital setting. Patients recovering from illness or surgery need good nutritious food to recover quickly and return home. If hospitals are serving patients unhealthy meals or encourage retailers on hospital campuses to sell unhealthy foods, it can add to the public's confusion about what eating "healthy" really means.
Healthy Foods in Champlain Hospitals is a priority program driven by the Champlain Cardiovascular Disease Prevention Network (CCPN), an innovative, multi-sector partnership housed at the University of Ottawa Heart Institute. Since 2012, CCPN has been working with hospitals in the Champlain region of Eastern Ontario to position hospitals within the system as role models for nutrition and healthy eating.
Institutions currently involved in Healthy Foods in Champlain Hospitals program:
Almonte General Hospital
Arnprior & District Memorial Hospital
Bruyère Continuing Care (two campuses)
Carleton Place & District Memorial Hospital
Children's Hospital of Eastern Ontario
Cornwall Community Hospital
Deep River and District Hospital
Glengarry Memorial Hospital
Hawkesbury and District General Hospital
Hôpital Montfort
Kemptville District Hospital
Pembroke Regional Hospital
Queensway Carleton Hospital
Renfrew Victoria Hospital
Royal Ottawa Mental Health Centre
St. Francis Memorial Hospital
St. Joseph's Continuing Care Centre
The Ottawa Hospital (three campuses)
University of Ottawa Heart Institute
Winchester District Memorial Hospital
"If not hospitals, then who else?" says Andra Taylor, Regional Dietitian with the Healthy Foods in Champlain Hospitals program.
Retail the first area of focus
"It was really a process of first understanding what's going on with respect to food in our 20 regional hospitals through environmental scanning," explains Laurie Dojeiji, CCPN Program Manager. "We assessed the current state of affairs and found that food in hospitals includes many aspects, from retail to patient food. As a first priority, we decided to focus on retail food, which includes the cafeteria, vending machines, volunteer and franchise operations on hospital campuses. We felt this would be less complicated than starting with patient menus (given the variety and specificity) and would build some positive momentum on the topic."
Hospitals are not only providing food for patients; they're providing food for staff and visitors. Even the most health-conscious people can make less healthy decisions when they're tired, stressed, and worried. When one is grabbing a quick bite to eat in order to get back to your loved one's bedside, or in-between surgeries, nutrition isn't always top of mind. Nutritious food needs to be easily accessible and hospitals are an opportune place to start.
"We are essentially asking hospitals in the Champlain region to act as role models in terms of the food they're serving, so that people can make their own healthy decisions in terms of what they're eating. If staff and patients have the opportunity to try a healthier option because it's made easily accessible to them, we think it can inspire changes outside of the hospital as well." says Andra.
The key components of the program include:
A hospital senior leadership table to support regional planning and execution
A set of evidence-based nutrition standards to guide selection of available food and beverage offerings, implemented in a phased manner in order to create a healthier food environment
Point-of-purchase nutrition information (ie. calories, sodium)
Central dietetic support and tools for hospital food services staff
Opportunities for exchange across hospitals to share promising implementation strategies
Innovative communications to support successful adoption throughout hospital community
Tips for eating better at work…and at home
The Ottawa Heart Institute has a list of Ten Tips for Healthy Eating that break down simple rules that can make a large impact on people's lifestyles and their health. The Healthy Foods in Champlain Hospitals program is anchored in these same principles, which are recommended for healthy eating at home. "It's important to eat a variety of fruit and vegetables at every meal and to choose whole grains," says Andra. The Top Ten Tips also include considerations for healthy eating such as listening to your body, eating when hungry and to stop eating once full.
Providing patients and members of the public with tips sounds like an easy task, but it becomes complicated when trying to convey how diet and menu choices break down into a total quantity of grams of fat, carbs, and sugar to consume daily – let alone translating this information into a set of criteria that hospitals can follow when deciding which foods they should (and shouldn't) sell or serve. Many consumers struggle to put healthy eating into practice. "We are trying to make healthy choices easier for consumers by shifting what is served in hospitals, says Laurie. "We give hospitals examples of healthy foods to emphasize and also ones to reduce, such as processed meats and sugary drinks. It's important to emphasize that calories aren't the only thing to keep track of when trying to eat healthy. Food is more than a compilation of nutrients. And a healthy diet is about establishing a healthy pattern of eating over time."
Ontario's new healthy eating regulations represent a positive step forward
In January 2017, Ontario established new healthy menu legislation putting in place new regulations, requiring restaurants with 20+ locations to provide nutritional information, specifically caloric information, on their menus.
"The Ontario regulations are a great first step because it's letting people know what they're eating. In the hospitals, we provide caloric information, as well as the amount of sodium in each meal, says Andra. "We also have ingredient lists easily accessible so that consumers have full transparency. The more information provided, the better. However, when eating away from home, it can be challenging to eat healthy because calories are only one piece of the puzzle. I'd love to see the regulations be extended to posting sodium and even more information, for people to understand what foods are healthier and why."
"We'd love to see all restaurants and grocery stores with take-out provide nutritional information, but we also understand how challenging it can be," admits Laurie. "For large operations, you need to make standardized recipes and train all of the staff how to follow them correctly. It's tough for smaller operations as well because of all the time and money they must invest. We're completely in favour of the new regulations. It's getting consumers used to seeing the information and helping smaller operation see the value in it, but we appreciate the work involved," says Laurie.
Healthy Foods in Champlain Hospitals' success
Andra and Laurie don't know of any other region that is tackling healthy eating in a healthcare setting in a similar way that Healthy Foods in Champlain Hospitals is doing. They've made a positive impact, and they're proving that with some hard work and leadership, it's possible to make real changes. In March 2014, progressively-phased recognition levels (Gold, Silver, Bronze) for implementation of the Healthy Foods in Champlain Hospital program were endorsed by participating hospital CEOs, Champlain LHIN CEO and CCPN Chair. The first hospital achieved Bronze status in December 2014. By June 2015, all 20 Champlain hospitals had signed on and were actively participating in the program. As of today, 21 out of 23 hospitals campuses have achieved Bronze status, and two hospitals have achieved Silver.
Based on their success in the Eastern Ontario region, the folks at the CCPN are looking further afield. They recently launched a survey of hospitals across Ontario to understand their position with respect to healthy food in hospital retail settings and how the Healthy Foods in Champlain Hospitals program might be able to assist.
"It would be great to one day extend the program; however, right now we're keeping our focus on the Champlain region to make the most of our current resources and capacities," says Laurie. "But we're excited to share our story with others, and hope it inspires other hospitals and communities to do the same."
For more information about the Healthy Foods in Champlain Hospitals program, visit http://ccpnetwork.ca/priorities/#healthy_food.