What You Need to Know About the New Menu Labelling Laws in the UK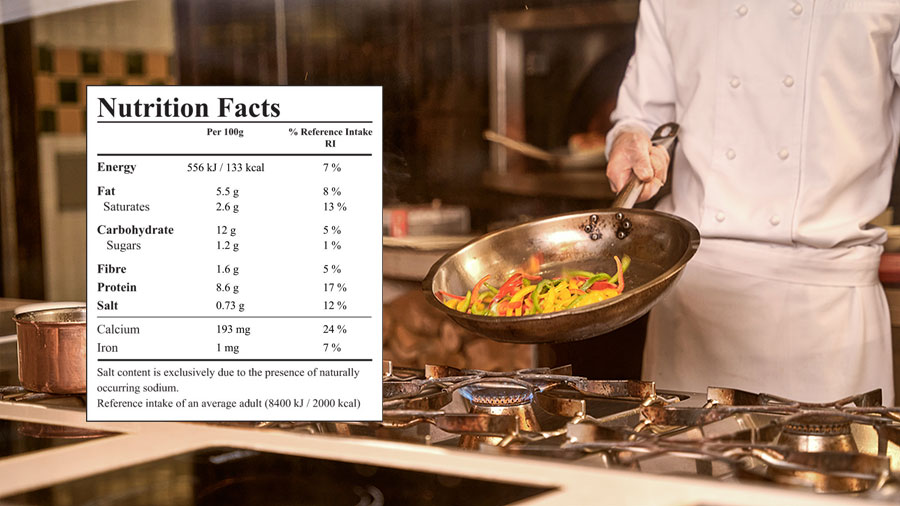 The UK Government is implementing a new law for businesses selling food outside of the home. Starting in April 2022, the government has announced mandatory calorie labelling among large food businesses (businesses with 250 or more employees) in the out-of-home sector. This legislation aims to improve overall public health amongst UK citizens by reducing obesity rates. 
For food businesses, preparing to meet the legislation can be daunting. Food businesses affected will include restaurants, cafes, takeaways, supermarkets, home delivery services, department stores, entertainment venues (such as cinemas), delicatessens, sweet shops, bakeries, catering, and domestic transport businesses such as planes, trains, and ferries.
Menu Labelling Essentials
When it comes to adding calories to menus, there are a few key guidelines to adhere to.
The Energy content information must be presented at the point of sale. This means that calories should be placed on each menu item either on menu boards, online menus, or food labels. Typically, the calories are placed near the name of the dish or the price (see examples below).

Energy content should be displayed as kcal

The Energy content of a single portion of the food should be displayed. If the item has been prepared to be consumed by more than one person, the Energy content of the whole item should be displayed.

Calorie information must be given per portion (for example per item, per scoop) and not per 100g or 100ml.

Businesses are allowed a plus or minus 20% allowance on accuracy. It is recommended for businesses to keep records to explain to enforcement officers how calorie information has been calculated for recipes.

The penalty for non-compliance is a fixed monetary fine of £2,500
Example Menu with calories after the price.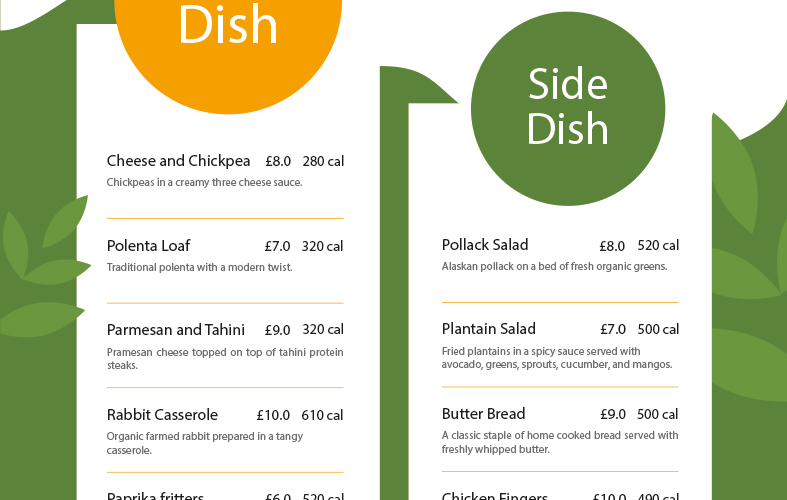 Example Menu with calories after name of the dish.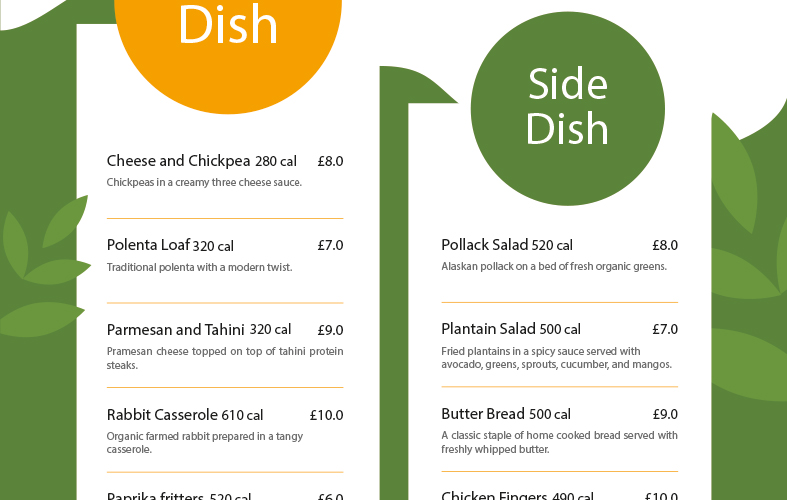 There are a few valid methods for obtaining the nutrition information of a dish or recipe. Traditionally, this was done by sending samples of the food items to a lab for chemical testing. More recently, nutrition analysis software has become accepted by regulatory bodies, including those in the UK, as a valid method for analysis. A third option would be to manually calculate the nutrition of a recipe by using ingredient databases available as a PDF or excel. Of the three options, nutrition software has significant benefits.
Cost-effective – laboratory analysis can cost £200 or more per item, with software, prices are reduced significantly paying £20 to do an analysis of up to 20 items.
Time-Saving – while lab turnaround time can take a few weeks, nutrition analysis can be done in minutes with software.
Ability to do virtual experimentation to make a recipe healthier. The UK government has implemented calorie labelling to encourage businesses to reformulate their recipes and dishes and provide lower-calorie options for their customers. With software, this process becomes easy by virtually swapping out ingredients and changing their quantities to create a healthier menu alternative.
The Future of Menu Labelling in the UK
Currently, the new legislation only applies to larger businesses with 250 or more employees. Currently, the government is encouraging smaller food businesses to also voluntarily adopt calorie labelling. The government intends to consider expanding menu labelling legislation to smaller businesses within 5 years after reviewing the implementation of the Regulations for large businesses.
Nutrition Analysis Software
MenuSano is an online nutrition analysis and recipe costing tool that accurately calculates the calories and macronutrients of a dish. Simply enter ingredients into a recipes and combine recipes into a dish to see the full nutritional profile. All data is stored securely on the cloud and data can be easily accessed online or exported to excel for easy record keeping. Try MenuSano's free trial or schedule an online demo to learn more.