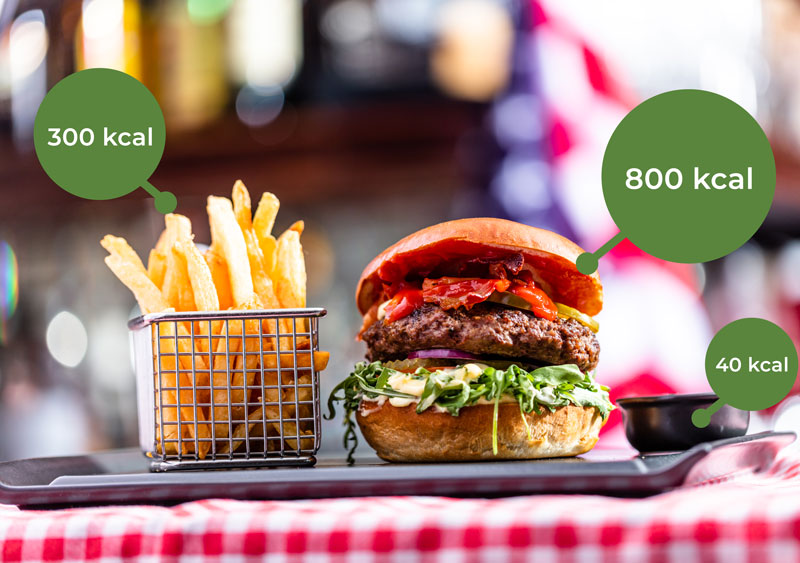 A new Ontario food regulation came into effect January 2017 that will impact not only a variety of restaurants, fast food joints, bakeries, and coffee shops, but will surely also affect what customers choose to eat. Nutritional facts must be available to the customer, this could be a costly and timely process without the right nutrition labelling software.
The new law is a part of the Healthy Menu Choices Act and states that every foodservice chain, with at least 20 locations in Ontario, must calculate the number of calories and nutritional values of each food and drink item that the restaurant serves on the menu. This will allow customers who count their calories to determine which items will fit their dietary needs, and allow them to make informed choices by comparing several items. The addition will make menus and the food being served in restaurants far more transparent to their clientele. There will be specifics as to the size and the placement of the information, which will be inspected by a designated public health official. Businesses that choose not to comply or are late in complying, will face a warning, a reminder of how to comply, and then possible fines if the menus are not amended within a specified time. MenuSano makes it easy for restaurants to put their menu items into our diet analysis software and with little effort print out labels to provide all necessary information.
But, what exactly is being added to the menus anyway? Calories are the measurement we use to calculate the energy that we get from our food intake. Canada's food guide states the following facts for determining how much an individual should consume on a daily basis:
If you're female and between the ages of 31 to 50 years old, if you're an active person, then 2,250 per day is your suggested calorie intake
If you're male, and between the ages of 31 to 50 years old, if you're an active person then 2,900 per day is your suggested calorie intake
Obviously, caloric intake needs will be determined by a host of factors, which include your sex, age, and activity levels. "Active" means a regular amount of activity during a day; so someone in training for a marathon or who practices some form of high activity on a regular basis would require an increase in their calorie intake. Children, on the other hand, have a much lower required calorie intake, as do the majority of seniors. When our calorie intake exceeds our daily needs, we can suffer from a wide variety of health issues, including, but certainly not limited to, obesity, diabetes, depression, and joint inflammation.
The general population is waking up to the detrimental effects food can have on our health, and they're asking a lot more questions than they used to. Restaurants are finding that they must be equipped with knowledge regarding not only the calories in their diner's meals, but also the sugar content, sodium levels, saturated or trans fats content, and even protein! There are also many diners with limited choices, such as those who are gluten-free who aren't satisfied and won't likely become loyal customers if they're limited to only one menu option each time they go out. There is also the fear for some diners that they may ingest something that they are highly allergic to; something that would be equally horrifying for a restaurant owner. Helping patrons determine which meals work best for their needs sounds like a job for a nutritionist, who wouldn't typically be on the payroll of even the most upscale dining establishments, so what options does a business owner have? The simple solution is MenuSano, our simple to use software can help provide the information your customers want.
Ontario's goal is to increase the education of its citizens and promote informed choices when eating at dining establishments. When you visit a grocery store, the calories are posted on your food items, letting you know how many you will be ingesting with a "regular" sized serving, and even letting you know what the suggested serving size is. It's very easy in this manner to determine a total calorie count and even to compare items on the shelves to make the best choice for customers and their families. A menu doesn't currently offer all of the information a growing number of diners are asking for.
When a business has so many other factors to deal with, adding pertinent and at times vital information to a menu can be a task involving a lot of time and effort that many will have to stretch resources to find. Each food item and ingredient has its own set of information that customers will want to know about and track in order to make good eating decisions. It would be next to impossible for each server to be armed with an entire (and possibly shifting) menu's worth of dietary information. This would require hours of extra training, involving once again, those highly coveted commodities of both time and money.
This is where our analysis software comes to our rescue when it comes to not only researching but tracking information we need to run a business. With MenuSano's state of the art food labelling software, a business owner has the ability to offer customers all of the information they'll need to make good food choices. Inserts for your menu are easily achieved with all of the pertinent information a diner may need about their specialized diet. A health-conscious customer will quickly be able to locate a meal that caters to their diet eliminating guessing or having to bother the wait staff. Your restaurant will attract new patrons who want to feel that they're more in control of their meal choices, and retain diners as loyal customers who are comforted by the transparency of your menu. Your menu can accurately specify which menu items include such highly sensitive ingredients as nuts or dairy, and those which are safe for patrons with allergies to choose. With MenuSano this reduces stress on business owners, servers, and diners alike which creates a much more pleasant and overall more nutritional night out.
Menu changes become simplified as the labelling software gives you the ability to edit and make whatever changes you deem necessary. If you already have a menu that you're satisfied with but want to highlight menu changes or healthy choices, opt for a simple menu insert. The options are limitless when you invest in the right software for the job. Streamline your menu and widen your customer base. Give us a call, or send us an e-mail today to find out how.
Phone
Toll-Free: (866) 640-2345
Tel: (416) 640-2345
Fax: (416) 640-2344
Email
info@menusano.com