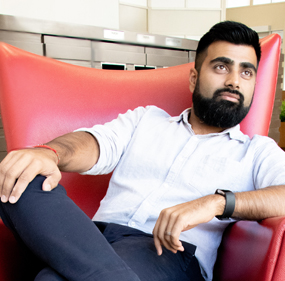 On this episode of The Healthy Menu podcast is MenuSano's Social Media Content Producer and Videographer, Karan Dholakia, and he talks about the importance of menu labelling and how and if it works.
In the first Healthy Menu Bitesize Edition, Karan talks about how it has the potential to change the public's behaviour and he delves into the psychology behind it.
Healthy Menu Podcast Bitesize Edition – Episode 10: Karan Dholakia – Does Menu Labelling Work?
Light Transcript
The original purpose of a nutrition label was fundamentally a "truth in labeling" law intended to ban adulterated or mislabeled products and raise the standards across the food and drug industries.
The rationale behind menu labeling is to provide consumers with nutrition information to help them make more informed, and potentially healthier choices.
Menu labeling is an example of a "nudge," first elaborated by Thaler and Sunstein in their book of that name. (2008) It is an approach that "steers people in a particular direction, but also allows them to go their own way."
Dr. Christina Roberto in the Ontario Public Health Association podcast, tells us how research has found that restaurants located in jurisdictions with menu labeling in place were more likely to introduce healthier items to their menus. She also tells us about additional policies and interesting efforts going on to improve our health and diets, like hospitals choosing not to serve fast food and sugary drinks.
Roberto and colleagues found a significant effect of having some labels (either calorie information only or calories plus information regarding daily recommended intake of calories) compared to a condition with no labels, with participants consuming 14% fewer calories. This study also used self-reported dietary recall to assess the amount of food consumed the rest of the day following the menu labeling exposure, and found that when the calories accounting for food consumed at the dinner and after dinner were combined, participants in the calorie labels plus information group consumed 250 fewer calories than other groups; this effect was not significant for the calories information only condition.
This is one of the few studies to examine the residual effect of menu labeling on behaviors beyond the immediate food choice and has 18 important implications for how menu labeling could impact other food choices throughout the day.
Bridgehead seeing a change in consumer behavior: "We noticed a significant change in a few items and minimal change in others. It surely depends on the type of food. People's decisions about nutrition labeling seem to be changing when they're offered a range," says Harbison. Harbison points out that, "One of our more indulgent desserts, the carrot cake is still going well and hasn't seen much of a change since it's been labeled. However, when it comes to things like muffins where there is a range of options presented, we're seeing people pick more low-calorie/vegan options instead of muffins made with buttermilk and eggs."
Nutrition information exists not just to highlight our caloric intake but to help people to make healthier choices and to aid the reduction of chronic illnesses, like diabetes and heart disease, for example.
Consumers are becoming progressively savvy, especially when it comes to nutrition information. It is the responsibility of the foodservice industry to raise awareness of the merits of healthy, nutritious meals not just at home but in restaurants, too.