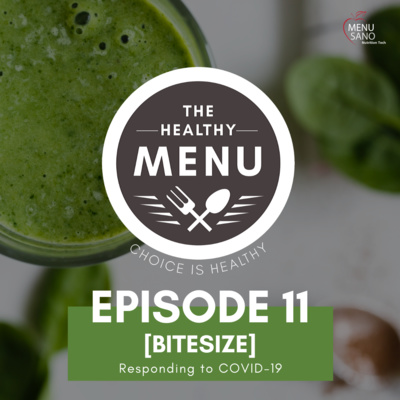 On this episode of The Healthy Menu podcast is MenuSano's Social Media Content Producer and Videographer, Karan Dholakia, discussing COVID-19's impact on the foodservice and hospitality industry.
It has been unlike anything we've seen in recent memory, but in an effort to try and combat the negative impact that it's had on the foodservice and hospitality industry, he talks about how businesses can approach COVID-19.
He also discusses resources that are accessible online and some actions that owners can take to help keep their existing audience engaged and their business front of mind.
Find MenuSano's list of COVID-19 resources here.
Healthy Menu Podcast Bitesize Edition – Episode 11: Karan Dholakia – Responding to COVD-19
Light Transcript
This episode of the Healthy Menu Bitesize comes in the midst of an irregular time in the world but today I want to talk about how you can approach the COVID-19 when it comes to your foodservice or hospitality business. I'll be going through some resources that are accessible online.
Amongst everything that's happening around us, how have you been dealing with the pandemic? I'd like to offer some background information on the impact it's had on the foodservice and hospitality industry.
Restaurants have naturally seen a decline in diners and we've seen a huge shift in consumer behaviors. We've seen a shift in the way people are dining. People are naturally becoming more hesitant about eating out and ordering in. But what actions can foodservice and hospitality businesses take to make the most of these quiet periods?
We here at MenuSano have put together a very handy blog post that lists all the resources that are available for the foodservice industry, whether you're based in the united states, Canada, or anywhere else in the world.
So what are some of the actions you can take at this point in time?
For one, you can continue addressing your audience whether it's through social media to maintain a semblance of loyalty, you should continue posting on social media.
One of the ways you can maintain your relationship with your audience is through active engagement. Get your chefs, for example, to provide tips for cooking over social media. This will give you the opportunity to not only showcase your chef's knowledge but also to showcase the cuisine your restaurant specializes in, allowing you to prepare for the inevitable moment when the lockdown has been lifted.
Amongst one of the resources that we've put together on our blog, one of them is called Support Restaurants, or, Dining Bonds. A Dining Bond works like a savings bond, where you can purchase a "bond" at a value rate to be redeemed for face value at a future date.
For restaurants, many of whom are small businesses and are at serious risk of shutting their doors permanently due to this crisis, the bonds can bring in much-needed revenue. And for us, the public, they're a chance to show love and support, ensuring the future of some of their favorite restaurants, not to mention the many people who may be forced out of work.
Amongst other things, you can also use this time to think of new initiatives for your foodservice business. Should you be focusing on new dishes? Recipes? Are there new initiatives you can take to try and keep your business on top of peoples' minds?