Similar to their non-cannabis counterparts, edible cannabis products have specific labeling requirements when they are for sale. You have to watch out for proper labeling for dosage, THC, and/or CBD levels, as well as ingredients that make up your product.
Product Information
Along with the brand name, your product must show its identity by its common name or its function. For example, if your edible cannabis product is essentially a chocolate bar, make sure to include "chocolate" on the packaging label.
With the many different forms of cannabis, you are required to show the intended use of your cannabis product, in our case, it would be "for ingestion". As your product is edible, clearly show the durable life date – if it is of 90 days or less. For products with a durable life date of over 90 days, its label is not required but we recommend always having it on your product to inform your customers.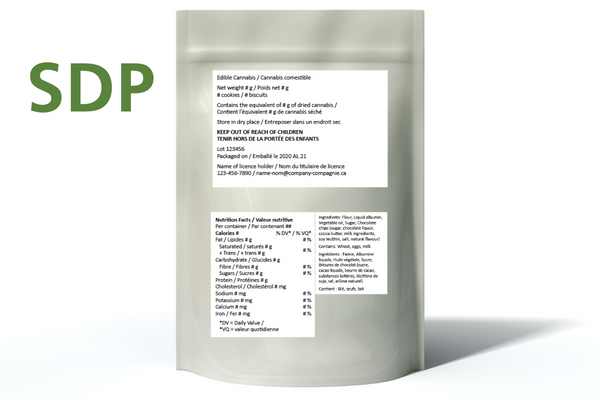 Nutrition & Ingredients
For all edible cannabis products, you must fully and accurately show all of their ingredients and constituents. Be sure to list them by their common names and do not abbreviate the common names and chemical names. Include them below the required nutrition facts table, and display all information on the SDP (Secondary Display Panel) of the label.
Within those ingredients, include any sources of food allergen or gluten, and added sulphites, as well as any cross-contamination statements. Just like a restaurant or any food business, keep your customers informed and most importantly, healthy and safe.
If your product has an absence of a specific allergen source, you are allowed to make a claim saying such: "gluten-free". And of course, this is only applicable if the claim is factual and not misleading. However, you cannot label your product as broadly "allergen-free" – it must be a specific food allergen.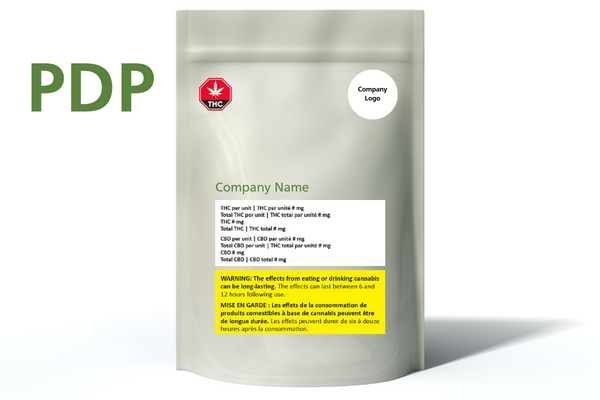 Standard Cannabis Requirements
This applies to not just edible cannabis, but to all other cannabis products. On the PDP (Principal Display Panel) of the label, don't forget the standardized cannabis symbol and the health warning message listing the potential health risks and effects of using your product.
Remembering all the requirements for edible cannabis can be difficult, when your product has to be compliant with both cannabis and food standards. Stay easily compliant with MenuSano, a nutrition analysis software that has cannabis-specific nutrition labels* and an extensive ingredients database.
Try our free 14-day trial today by filling out the form below, and stay compliant and up-to-date with edible cannabis nutrition labeling.
*Note: MenuSano only provides nutrition labels for edible cannabis. MenuSano does not provide standard cannabis labels. Contact us for more information and details on what MenuSano can do for your business.