Here at MenuSano, we're always working hard to improve the user experience, and make software that is fast and easy to use. As such, we wanted to share with you some of the latest UI updates, as well as some new features that we added to MenuSano.

UI & UX Updates
We'd like to start by highlighting some of the UI & UX elements that we've improved in MenuSano. They may look small, but they are carefully designed to make it faster and easier for you to create Nutrition Labels.
Downloaded Label Tracker
If you are a subscriber to our Basic or Pro plans, you'll now see a simple counter that highlights how many labels you have downloaded in the current month. Use this to manage the amount of labels you have left for each month, and to make a decision on how many more recipes you'll be able to export Nutrition Labels for.

Our Premium plan subscribers will not see this counter, as our Premium plan has access to unlimited Nutrition Label downloads.


This counter is available both on the label export screen, as well as under your account settings.
Sub-Ingredients (Bracketed Ingredients)
When creating a Nutrition Label with a sub-recipe, ingredients for that sub-recipe (sauces, spices, etc.) are now pulled from your recipe automatically, and populated correctly, eliminating the need to add them manually. If you have many recipes with sub-ingredients, this will save you even more time.
New Features
Now onto the good stuff. We have two new major features to announce.
4-4-9 Calorie Calculation Method
The 4-4-9 calculation method is another way to calculate the Nutritional Value of Recipes and Dishes, it is now joining our current calculation method: Total Value.

The 4-4-9 method calculates Calories using the quantity of protein, carbohydrates, and fat in the recipe formulation. It's used primarily by manufacturers and assumes that each gram of protein contributes 4 Calories to the caloric total, each gram of carbohydrates contributes 4 Calories, and each gram of fat contributes 9 Calories.
For more Information on the 4-4-9 method, click this link.

You can change the Calculation Method directly on the Recipe Screen by hitting the newly added "Calculation Method" button.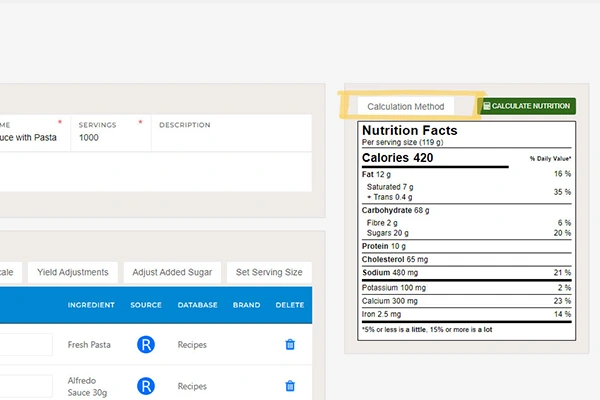 And wrapping up our updates for today, we have the last, but certainly not the least.
Sugar Alcohol Database
We are adding an entirely new database to MenuSano! The sugar alcohol database – also known as Keto Labels – covering the US and Canadian databases.
Sugar Alcohols include:
erythritol
isomalt
lactitol
maltitol
mannitol
sorbitol
xylitol
In order to add sugar alcohols to a nutrition fact label, make sure you have the add on enabled. You can do this on the Manage Subscription page under "Add-ons". The add-on includes the sugar alcohol database and nutrition fact labels.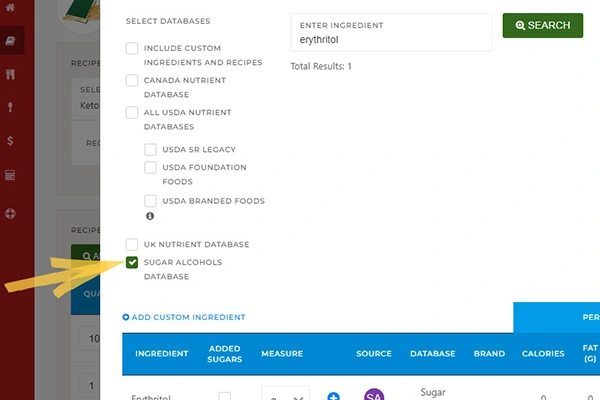 These new updates are rolling out right now! – If you can't see them for some reason, just refresh your page.
As always, if you have any questions about any of these new features, have difficulty accessing them or leaning how to use them, feel free to contact us, or read further in our knowledge database.