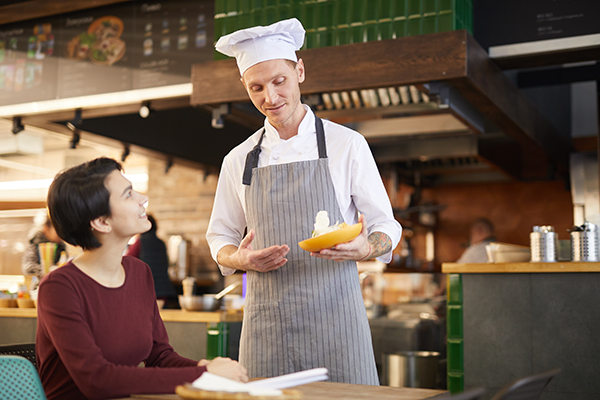 Consumers today take their health very seriously. With so much more information that's readily available, it's easier than ever to keep our eating habits in check. Customers want to know exactly what they're eating and any possible impact it may have on their health.
Nutrition analysis is the process that determines the nutrient content in foods and food products. This analysis is displayed on food packaging and in Canada, relays information on thirteen key elements. From here, customers get accurate nutrition information on calories, fats, carbohydrates, and even protein. Consumers can also check both macronutrients and micronutrients in what they are eating.
Those eating out in restaurants are also curious about the nutritional content of the food that they order. Providing this on menus or online through a website is important to keep your customers aware.
Nutrition analysis can increase customer engagement. Displaying accurate nutrient information is paramount in building trust with your current and future customers. Being transparent with your ingredients gives consumers peace of mind by allowing them to make healthy choices.
Trends Affecting the Restaurant Industry
With so much information readily available, today's consumers can't help but actively seek it out. Most of these people search for restaurant reviews before making their final decision on where to eat. Your everyday consumer enjoys staying informed on topics such as health, wellness, and diet.
This health-conscious approach has spilled over into the restaurant industry. Today's consumers demand establishments to support their healthy lifestyles.
We can see this in fast-food restaurants where these chains are now offering more health-conscious options. Plant-based diets are one of the largest growing segments of the food industry. Many fast-food locations are now even offering plant-based options.
More vegan restaurants are popping up than ever before. With ten percent of Canadians now vegan or vegetarian, it's an important and growing segment. This ten percent equals 2.5 million vegetarians and around 850,000 vegans. This is now putting pressure on foodservice providers to accommodate them.
The move towards veganism has led restaurants to offer vegetarian and vegan options. By not having these options, this may result in loss of revenue. Consumers look for health-conscious menu options and will simply bypass a restaurant that does not provide them.
Gluten-free has remained a prevalent trend, and more restaurants now offer gluten-free options. Sustainable and regenerative agriculture is another big trend in the restaurant industry. The public is now more aware of how excessive land use and factory farming can harm the environment. Farming with regenerative agriculture can improve soil health and combat climate change.
New trends in the foodservice industry continue to emerge and are expected in 2020. Some of these include revamping kids' menus. Familiar choices such as chicken strips and fries are being replaced with cleaner and more unique options.
Soy is one of the most common food allergens out there. Because of this, many prominent restaurants are starting to reduce their use of it. Instead of soy, mung bean, hempseed, and avocado are being used instead.
Another trend includes removing flour from desserts and baking. Instead, they use choices like almond flour, coconut flour, cauliflower flour, and even banana flour.
It's important to understand what health trends are important for you to cater to a discerning audience. Staying informed of what your current consumer wants is important for building a long-lasting engagement.
Changing Eating Habits
Eating habits continue to change as the population's diversity continues to expand. Many new styles of cuisine from cultures around the world continue to gain in popularity. Neighbourhoods tend to expand their restaurant options as a result of these new cultures. These new cuisines include:
West African
Malaysian
Morrocan
Thai
Vietnamese
Middle Eastern
As consumers continue to develop a taste for these foods, it's not uncommon to see traditional restaurants adding them into their menus.
A myriad of diet preferences also currently exist. With people following vegan, keto or paleo diets, it's important to be aware of these current trends. Finding a way to cater to these consumers can help your business grow and expand to new markets.
Millennials are another segment of the population with changing eating habits. This is an important demographic that is most likely to stay up to date with modern eating trends. They tend to support ethical restaurants that support regenerative farming. They are also more likely to demand vegan options and look for organic choices.
The organic movement is growing more than ever, and not just with millennials. Customers want the cleanest versions of foods free from pesticides, chemicals, and additives. The best restaurants will use the cleanest and freshest ingredients possible. It's also important for them to showcase the fact that they do.
Nutrition Analysis Software that Elevates your Business
There are so many applications that are available to help you with any task. A nutrition analysis tool is a quick and easy way to share nutrition information with your consumers. As a food service provider, using nutritional analysis software gives you accurate information to share with your customers. This information can easily be shared or accessed online.
Using software of this nature helps to bridge the gap between food service providers and their customers. It showcases your product as a healthy option and educates your customers with accurate nutrition information.
Conclusion
MenuSano is the nutrition analysis tool that you need to elevate your business. With a database of over 250,000 ingredients, MenuSano's software gives you access to invaluable nutrition information.
MenuSano is an affordable and easy to use nutrition analysis software tailored for foodservice providers. You simply input your ingredients, form them into dishes, and then print out your new nutrition facts labels. All of this can be done in-house to save you time and money.
Your new labels can be displayed on your products and you can also easily access them online. This creates engagement with your customers that will set you apart from your competitors. Your customers will get the information that they seek, which results in them trusting your establishment and your products.